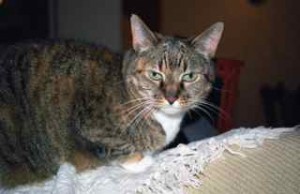 Twenty years ago, I was fairly new to Seattle and didn't know many people. I saw an ad on my job's internal site for a two year-old cat that needed a home. I've always wanted a dog but since I'd never had any pet before, I thought a cat would be easier and good training for a dog.
I contacted the woman and made an appointment to meet Shasta. In my mind, I was just going to check it out but had no intention of taking her home with me. I really had no experience with cats at all. When I got to the apartment, I met the two sisters that had five cats. They were downsizing. As I sat on their couch, I looked at the fur matted carpet and told myself I would never have a carpet that looked that bad. I didn't but I did learn about the velcro power of cat fur.
It wasn't long before a small, shy, tailless cat hopped onto my lap and the next thing I knew, I was walking out to my car with her. That was the start of my relationship with Shasta. I had to stop at the drugstore on the way home to buy a litter box and food. That's when I learned that my new roommate was quite a talker and LOUD!
Once I got her back to my apartment she went  under the couch and for the next few days I only got glimpses of her cowering under furniture. It took a bit of coaxing and bribing but we eventually became friends.
After she'd been with me for a month or so, I had to leave town for a week. Not knowing anyone, I just left her alone with a big bowl of food and a clean litter box. She was fine when I got back and for many years that's how I took care of her. We did our own things and occasionally checked in with each other. Still, it was nice to have someone to talk to and do yoga with.
I assumed all cats would want to go outside but not this one. After she'd live with me for a few months, I decided to let her out. Again, with lots of bribes, after a few weeks, she walked out my front door. She never went farther than a few feet and ran back inside at any sound.
I moved from that apartment several months later, to a two story house with a second floor balcony. It had a high, solid railing around it so I put her out there while we were moving things in. Well, that was the last I saw of her for about three days. Eventually, I heard meows coming from under the front stairs and we were reunited    .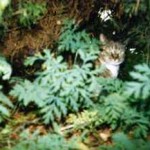 Over the course of twenty years, Shasta and I lived in ten different places, nine in Washington and one in Hawaii. She learned to tell the signs of an impending move and adapted quickly to her new homes. The move to Hawaii was a bit of an ordeal but once she did her inspection of the place, I think see liked it. The heat was good for her creaky legs.
She was raised more like a dog. She liked fetching treats. She did a morning wake-up call around 5:30 am, singing songs as loudly as possible in front of my bedroom door. She acquired several nicknames – Shlumpy, Petunia, Bubba Jo and her favorite-Galactic Princess of the Universe. She was my pup.
The last few years of her life, she became a high maintenance girl, but we both adapted and I think she was content. As she got older, we got closer, spending more time together. She hadn't been a lap cat but she learned to appreciate the attention. We understood each other and she taught her human well.
My best friend, Shasta
1992 – 2014