As I settle into Hawaiian life, I find myself wanting to learn more about the history and culture of the islands. When I was preparing for the move with the Removals Service I turned to several guidebooks to research where to live and what to expect but didn't have the time to explore the rich history of Hawai'i. So here are a few books that are primers for living the aloha way.
Moving to Hawaii: A Step-By-Stp Guide by Michele Meyer was my go to guide for all questions moving related. Michele has a well-orgaized website and clearly written book that addresses many aspects of daily life in Hawaii such as cost of living, finding a home, enrolling in school, and questions you should ask yourself before you make the move. The link below takes you to the author's website where you can start answering these questions yourself.
Now, moving on to the more classic, traditional Hawaiian books.
James Michener's Hawaii is a book that I've been aware of my whole life since it sat on my family's bookshelf but I never gave it any consideration until I moved here. It's length is intimidating and I admit that I'm just getting started with reading it.
This book of historical fiction takes you through the geology, evolution and cultural development of the islands. This book was first published in 1959 and there is some cultural insensitivity within the story that may not be for everyone. Just because it's dated doesn't mean it's not a good read. I'll let you know once I've finished it.
Until then, here's some quick quotes of reviews posted on Amazon.
"Wonderful . . . [a] mammoth epic of the islands."—The Baltimore Sun
"One novel you must not miss! A tremendous work from every point of view—thrilling, exciting, lusty, vivid, stupendous."—Chicago Tribune
"From Michener's devotion to the islands, he has written a monumental chronicle of Hawaii, an extraordinary and fascinating novel."—Saturday Review
"Memorable . . . a superb biography of a people."—Houston Chronicle
Here's Jame's Michener's Hawaii.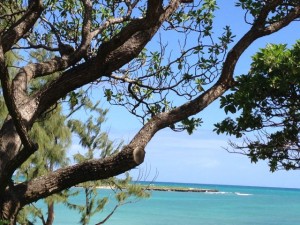 The other book I'm currently reading is Eddiie Would Go: The Story of Eddie Aikau, Hawaiian Hero and Pioneer of Big Wave Surfing by Stuart Holmes Coleman. This is a much easier book to read than Hawaii. It transforms a tragic, true story of a surfer who lost his life to the ocean into a tale of a Hawaiian waterman's strength, courage and goodwill that has inspired surfers for decades. I'm much more likely to finish this story.
I've been looking for books on the flora and fauna of the islands but have yet to find any that I really like. I'll keep searching.