I'm hooked. I've always been addicted to mountains but now the ocean has lured me in as well. I didn't spend much time in or around the ocean growing up inland in Connecticut. There would be yearly trips where my parents would take me for a few days to Long Island, New Hampshire or Cape Cod but I would just play by myself in waist deep water, jumping over the breaking waves. I remember spending hours doing it but I don't remember ever trying to swim or do any other activity at the beach.
I moved to New Jersey for college and there were a few trips to the beach but mostly to work on my tan. I do not tan. I did get a few nasty burns which may have added to my apathy toward the ocean. After settling in New Jersey after college, I began spending weekend days at the beach, mostly Seaside and Island Beach State Park. As a special treat, I would often stop at Grog's Surf Palace to look at all the great surf gear. The only things I had reason to buy were t-shirts and flip-flops, but I'd go in there and dream.
Thanks to my brother, I was always fascinated by surfing but it never occurred to me that I could actually go out in the water and do it. I remember 'practicing' my pop-ups in the living room.A coworker in New Jersey did offer to loan me his long board but that would have been a weird situation.  My brother did buy me my first skateboard when I was about twelve and I spent many hours on it.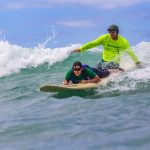 As an adult, I've only sporadicly waded along coastlines in Washington and Oregon. The water there is too cold to actually get in and I was content with soaking up the beauty fully clothed in REI gear.
/So, now I live in Hawaii and everything has changed. It was a few months before I was able to get in the water and it's been a gradual progression but now I crave it the same way I crave being at Mt. Rainier. When I'm on my board, it's just me out there with the sea creatures.