I've been trying to figure out what my Hawaii sport is going to be. I tried the prone paddle boarding but I'm not sure that's for me since lying on my stomach sometimes causes my back and legs to spasam. It's true that I've only tried that three times and while the first time with coaches was fun, once I got in the water by myself it was a lot harder. There's a learning curve that I haven't concurred.
Doing sports, especially water sports alone isn't an option for me since I need help getting into the water. I don't have the strength to walk in the sand on my own. Once I'm on the board I'm fine. If I fall in, the board I've been using is specially modified with handles so I can pull myself back on. The problem is finding people willing to help get me on the board and go paddling with me. I've been fortunate enough to have a few members of a local group go out with me a few times. I'm still trying to get the hang of it, but I'm improving.
So now I'm looking into wave skiing. A wave ski is  sort of a sit down surf board. There is a seatbelt around your waist and your feet are held down with straps.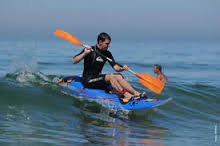 I haven't actually done it yet but there is one for sale on Craigslist. I say that because I don't think there's any place on Oahu that rents them. I contacted AccesSurf and they are considering doing monthly clinics so maybe I'll get on one soon.
A surfski is similar to a wave ski but it's more like a kayak with more of a molded bowl seat and foot activated rudders. I tried one once in a creek, but I think waves would intimidate me. They are really tippy and I'm not sure I'd be able to get back on out in deep water.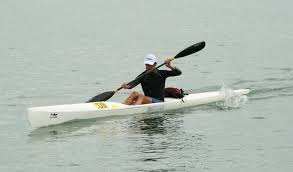 For now, I'll wait for an opportunity to give a wave ski a test and maybe get back on a surf ski once more before ruling that out completely.