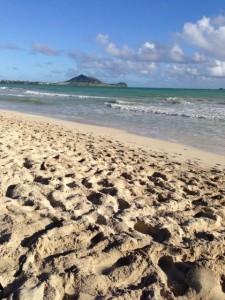 You my not know it but I have a disability that prevents me from doing most activities that require leg strength. I get around with a walker or mobility scooter which separates me from people. My forays into nature are quite mild these days – reading in the park, gardening on my lanai. I rarely have the opportunity to absorb myself deep into the natural environment.
Last weekend however I had the chance to participate in AccessSurf's program. I was escorted into the ocean by two friendly volunteers who helped me float among the waves. I think it's been at least twenty years since I've been deeper than me knees into a body of water other than a pool. It felt wonderful to just feel the wawes rushing around me.
But the best part was the surfing. Yes, it was a modified version of surfing aided by a whole team of instructors and volunteers but it was a blast. I laid down on a very long surfboard modified with handles on the sand and the team lifted me and carried be into the water.
My instructor Chris hopped on the board behind me and paddled out into the waves. It was a decent surf day at White Plains Beach with waves of 4-5 feet. Because of the size and weight of two people on a big board, I had to take the brunt of the waves as we splashed through to get out far enough. Luckily another surfer had loaned me his surfing sunglasses so my contacts stayed put. The water was so clean. I'm used to New Jersey water. This was totally different.
Just the ride out was fun but once we turned around and caught a wave, I was in love. It was so fun. Powering through the foaming aqua water was exhilarating. Floating on top of a massive expanse of liquid with some control but just letting the wave take you was so empowering.
AccessSurf provides this program once a month for disabled people of all kinds and also a separate program for Wounded Warriors. Through donations and volunteers participants are provided with equipment, instruction and even a picnic.
Here's a video of my day at the beach. I hope to return soon.
[iframe src="http://www.youtube.com/embed/Mfqe5ea4t4Y?feature=player_detailpage" width="100%" height="480″]